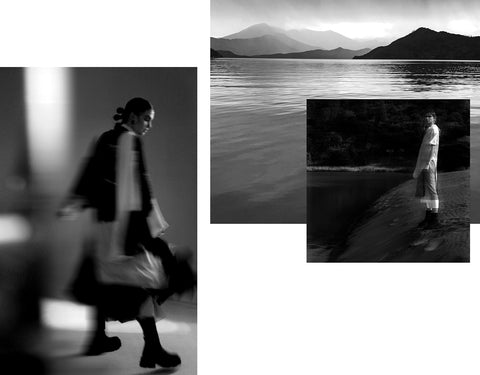 OUR STORY
SYMETRIA IS DESIGNED FOR THE CREATIVELY CURIOUS MIND THAT DELIGHTS IN CONSIDERED CONTRADICTIONS AND INTERRUPTED PERFECTION.
A calm and confident exploration of form, Symetria is derived from geometric and linear inspirations. Navigating the relationship between fluidity and geometric strength, the experimental nature of SYMETRIA is grounded in wearable pragmatism characteristic of the brand's antipodean home.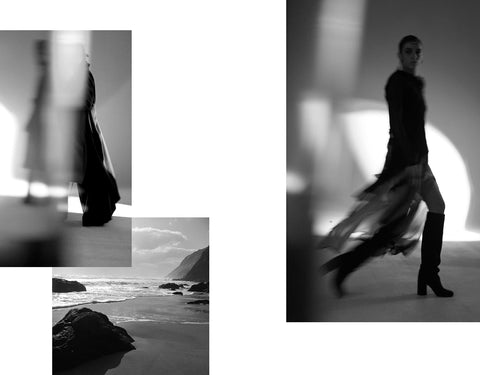 Imbued with a quiet confidence each garment is designed with longevity in mind, created with multi-purpose usage that invites the wearer to explore, personalise and prolong the lifecycle of each piece. Unexpected fabric combinations masterfully crafted with considered details in confident silhouettes are the key elements that define the SYMETRIA brand.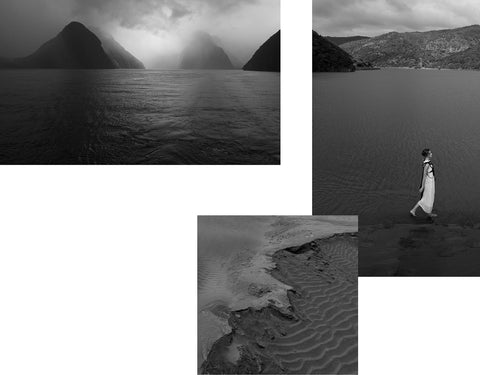 A brand for the woman who knows where she's from and where she's going, SYMETRIA is expressive of an assuredness without overt dominance. SYMETRIA does not impose itself on the wearer but rather becomes part of their presence effortlessly integrating in to their world. For women who are drawn to linear form; be it found in architecture, nature, furniture, art or text on a page.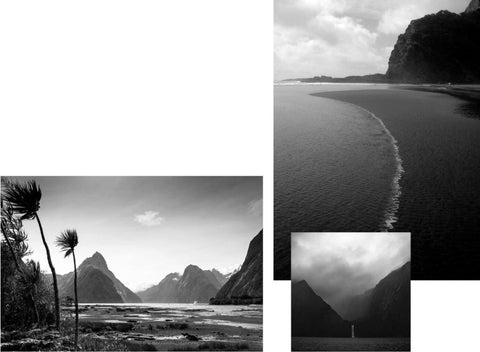 WHO WE ARE:
Founded in 1999 and having been immersed in fashion for over 20 years designing successful collections for the New Zealand market, Vicki Taylor and her husband Mark create and share their unique perspective and inspired design to empower women. With a commitment to operating a modern business with considered decisions and responsible practices.
Inspired from our Antipodean home. The clean remote landscapes, endless coastlines and natural beauty shape our lifestyle and creative practices. Symetria garments are made in and formed by New Zealand.
Like its birthplace the shapes and colours of our collections are governed by the beauty of interrupted horizons: a black sand shoreline spliced by jagged white waves; a sculptural mountain range interrupted by a flowing waterfall.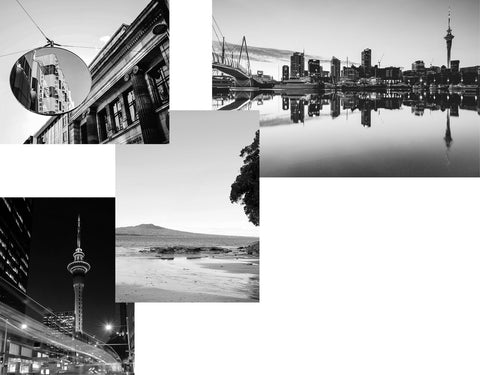 OUR WORKSPACE
Our workroom situated in New Zealand's biggest city, is where the heart for all our manufacturing practices lies. With a mission to support the New Zealand manufacturing industry at the cornerstone of the business.
Workspaces are designed to allow optimal functionality while ensuring conservative water and energy usage. Our waste is recycled so we can reduce and limit our overall environmental impact.
We are committed to keeping our New Zealand manufacturing base alive and thriving for future generations.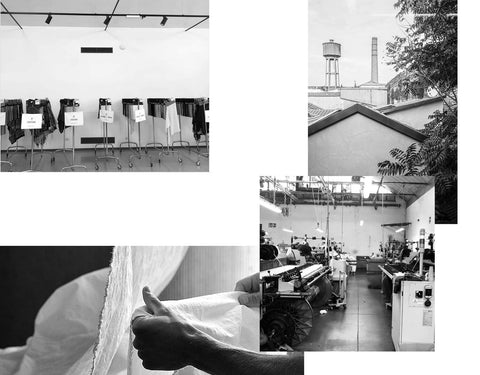 Our Supply Chain
Symetria is designed with longevity in mind. Our quality fabric selections and our designs are created with multi-purpose usage which invite the wearer to explore, personalize and prolong the lifecycle of each piece.
Materials are sourced through a carefully selected network of suppliers both locally and around the world. Many of these suppliers have worked with us for over 20 years. Sourcing from Italy, Japan, Portugal, China, India and New Zealand.
Natural fibres feature strongly and we hand select textiles from mills we have worked with for many years. We use regenerated textiles and consciously produced raw materials wherever possible.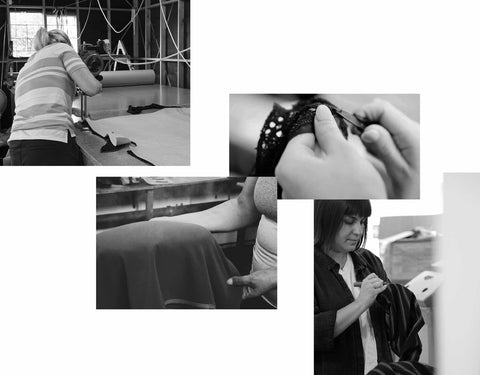 NZ Made
The quality of our relationships is integral to the success of our business. 100% of our manufacturing is completed in New Zealand. Specialist makers are close by our Auckland workroom and many have worked beside us for over 20 years.
We foster and build these relationships each and every season. Personally overseeing all our production processes and regularly visiting our makers.
We insist on a safe workplace, ethical practices and are regular participants in the fashion revolution movement in New Zealand.
As many local producers were decimated in the 1990's as fast fashion and cheap labour from offshore countries lured the fashion industry into less sustainable practices. We always remained committed to produce in New Zealand and keep our talented group of patternmakers, cutters, machinists, finishers and pressers in business and these skills available for the next generations.
By manufacturing locally, we can ensure exact quantities are produced to an extremely high and consistent quality. We are not bound by minimum quantity orders so when required, we can do a small production run or even just one of a style, enabling us to avoid ever over production or carrying any excess stock.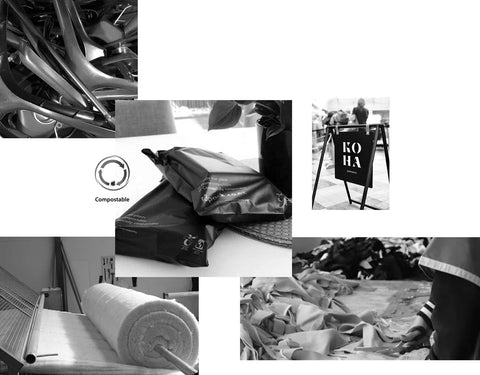 Recycling and Circularity
As a company we prioritize looking after our environment and the untouched purity of New Zealand. Sustainability is a core pillar at Symetria and we do everything we can do to be a responsible manufacturer. We currently sit in the top 15% of New Zealand fashion businesses according to Toitū Envirocare who measures our carbon emissions.
Compostable and bio-degradable packaging is used wherever possible. All our garments are delivered in compostable, no plastic packaging. We recycle our hangers, our labels are all made from natural fibres and we try to limit as much waste as we can throughout our manufacturing process.
Any fabric wastes are sorted by fibre, allowing them to be recycled and reused. These are sent locally to be turned into insulation products or reconstituted into another industrial use forms.
Those textile wastes unable to be reconditioned are recycled through local resellers or they are sent to schools and playcenters to continue their life in other creative forms.
In the last 20 years we have never had to on sell any excess garment stock.
We are currently researching and developing options for recycling and repurposing in a more sustainable way. We invite clients to return their clean and still wearable Symetria or taylor garments to our stores and receive a $10 voucher, or in Auckland we suggest you donate to Koha Apparel who are repurposing quality clothing to reduce the amount of clothing in landfill.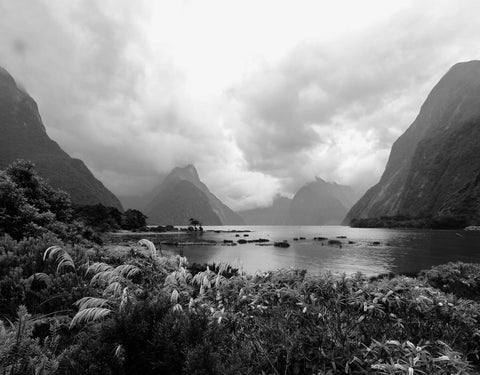 As a company we prioritize looking after our environment and the untouched purity of New Zealand.