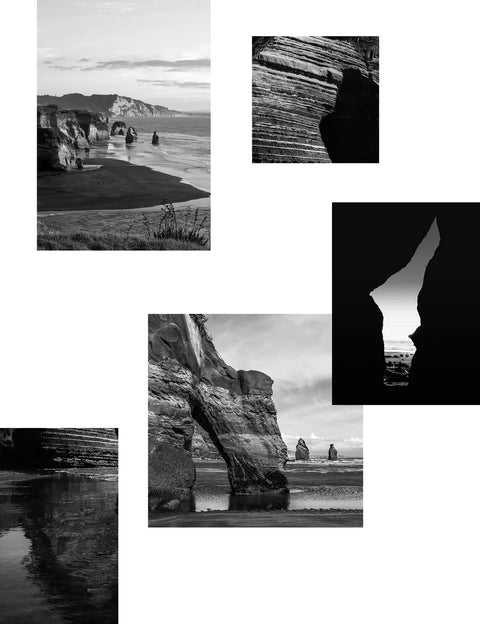 PART 08 - AW22
THIS COLLECTION DRAWS INSPIRATION FROM THE THREE SISTERS STAND-ALONE ROCK FORMATIONS, LOCATED ON THE WEST COAST OF NEW ZEALAND.
THE FORMATIONS ARE SURROUNDED BY THE MORE WEATHERED SHAPES THAT SCATTER THE LAND AND REFLECT A SOLIDITY AND WEIGHT THAT CONTRASTS THE MOVEMENT OF THE SUBTLY CHANGING GROUNDS. SOMETHING THAT STANDS SO STRONG FOR MILLENNIA WEARS DOWN SLOWLY, THE DELICATE PARTS REMOVED FIRST, UNCHANGING TO THE EYE IN ITS SLOWNESS UNTIL THE SHAPE BECOMES FRAGILE.
LOOKING OUT FROM INSIDE THE CAVES, THE STEPPE PRINT IS INSPIRED BY THE ROUGH ROCKS WEATHERED BY THE CLIMATE, WHILE THE ABRASION PRINT REFLECTS THE GRANULAR SANDS WASHED BY THE ENDLESS WAVES. EXCLUSIVE TO SYMETRIA, THESE HAND-PAINTED PRINTS ARE TRANSFERRED ONTO BEAUTIFUL SILK CREPE, HIGHLIGHTED THROUGHOUT THE COLLECTION. PRESENTING UNIQUE SHAPES, THE PRINTS ARE MASTERFULLY CRAFTED WITH ENDURANCE IN MIND. THOUGHTFUL IN SIMPLICITY AND PRACTICAL IN FABRICATION, THIS SEASON'S VERSATILE PIECES ARE DESIGNED TO TRANSFORM AND ENHANCE A WARDROBE FOR YEARS RATHER THAN MONTHS.
DARK NEUTRAL COLOURS ARE CONTRASTED BY SUNSETS THAT SHOW BLISSFUL SERENITY. THE WARM LUSTRE POLISHES THE RUGGED AND UNFORGIVING LANDSCAPE OF OUR WEST COAST. STRIKING OUTLAW RED INJECTIONS EFFORTLESSLY BALANCE MONOCHROME TONES OF BLACK AND GREY. THE WEARER IS INVITED TO EXPLORE, PERSONALISE AND PROLONG THE LIFECYCLE OF EACH PIECE.
Symetria COVER Video V1_3 from taylor boutique on Vimeo.
WE GO TO GREAT EFFORT TO ENSURE OUR BRAND TREADS LIGHTLY ON THE WORLD. IN THIS COLLECTION NATURAL FIBRES FEATURE STRONGLY AND RE-GENERATED TEXTILES ARE PRIMARILY HAND-SELECTED BY THE DESIGNER FROM RENOWNED EUROPEAN MILLS. GARMENTS ARE MANUFACTURED RESPONSIBLY AND SUSTAINABLY IN THE BRAND'S HOME OF NEW ZEALAND.