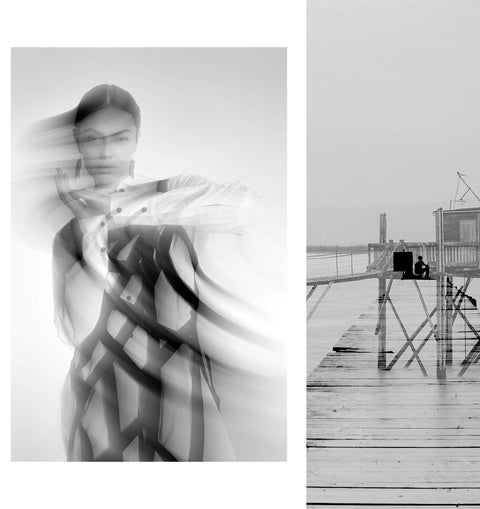 PART 10 - AW23
THIS SEASON DRAWS INSPIRATION FROM THE HUMBLE LANDING, OTHERWISE KNOW AS A PIER - A WOODEN DOCK JUTTING FROM THE SHORE DIRECTLY OVER THE WATER.
THE LANDING IS A STRUCTURED CONTRAST AGAINST OUR NEW ZEALAND LANDSCAPE, THE OPPOSING MANMADE FORM ENVELOPED BY NATURE.
PART 10 IS AN EXPLORATION OF RIVALLING FORCES, PLAYING WITH BALANCE. THE COLLECTION'S REFLECTION OF POSITIVE AND NEGATIVE, SHADOW AND LIGHT, FRAGILITY AND STRENGTH.
STANDING SOLID AT THE END OF THE LANDING, SURROUNDED BY THE NATURAL ELEMENTS. CLOTHES RUFFLE AND BILLOW AS THE WIND WHIPPED WAVES CRASH AGAINST THE STRUCTURE BELOW.
IN SYMETRIA'S ONGOING EXPLORATION OF RIVALLING FORCES, NATURAL AND RE-GENERATED FABRICS ARE HAND SELECTED BY THE DESIGNER, VICKI TAYLOR.
THOUGHTFUL IN SIMPLICITY AND PRACTICAL IN FABRICATION, THE TRANSFORMABLE NATURE OF EACH GARMENT RESULTS IN PIECES THAT TRANSCEND SEASONAL CHANGE.
View the entire collection in person at Paris Fashion Week 
MARCH 2-8 2023 
NOSEASON SHOWROOM PARIS 
8 BIS RUE DE BRAQUE, 75003, LE MARAIS
DESIGNED FOR THE MODERN CREATIVE, SYMETRIA IS A CALM AND CONFIDENT EXPLORATION OF FORM, DERIVED FROM GEOMETRIC AND LINEAR INSPIRATIONS. 
PART 10 REFLECTS SYMETRIA CONCEPT'S ROOTS IN NAVIGATING A RELATIONSHIP BETWEEN FLUIDITY AND STRENGTH, GROUNDED IN THE CLEAN REMOTE LANDSCAPES, ENDLESS COASTLINES AND NATURAL BEAUTY OF THE BRAND'S ANTIPODEAN HOME.